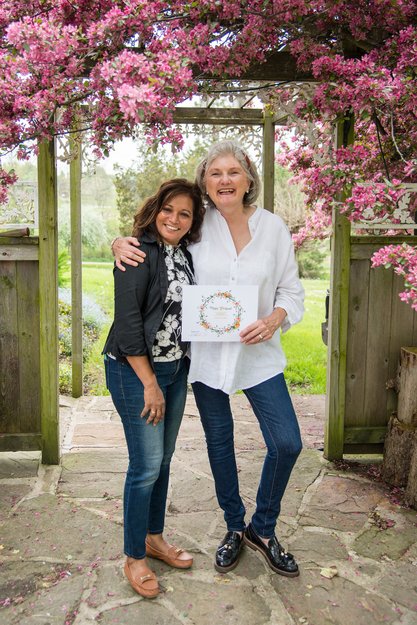 school of flowers
Weddings 101
• Six classes Wednesday evenings, 6:30pm – 9:00pm
• FALL SESSIONS TBA
• $1095 investment 
• Includes materials, instruction and light refreshments
• Limited to 15 students 
Thinking of a career change? Floral enthusiast? Wedding Flowers 101 is an introductory programme to the wedding flower basics. You will learn how to create boutonnieres, corsages, ceremony decor flowers such as grand style urns, planters and pedestals. You'll also learn how to create florals for the show stoppers – children's at weddings! Such as: rose balls, floral crowns, tussy mussy's, as well as our signature, drop-dead-gorgeous garlands, centrepieces and last but not least, the bouquets! 
You can sign up for one class individually as a fun workshop or earn a FTPS Certificate when you complete the full program. 
More Information
Questions? Ready to Book? elaine@fromthepottingshed.com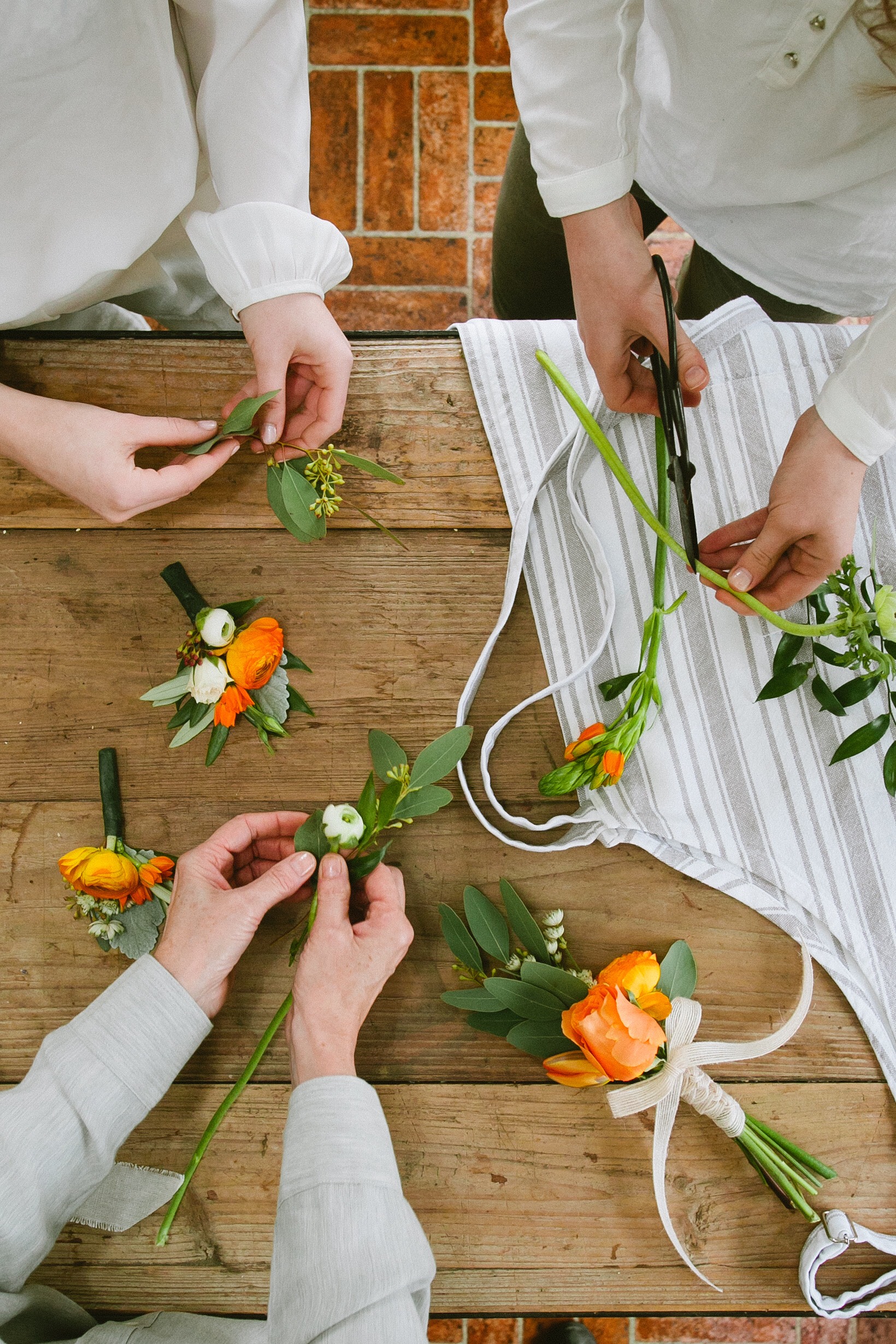 Week one
Flowers for Special Peeps
This is an introductory class on designing Flowers for Special Peeps: mothers, fathers, groomsmen, etc. – boutonnieres, corsages and other magical things. These look like they ought to be easy – like a walk in the park – but they take a little know-how and some finesse! You'll discover the how-to's from traditional boutonnieres to the modern "multi-style" (see photo), corsages (wrist and pin), as well as a new trend – nosegays for Mother-of-the-Bride. 
You will be taking home a variety of these mini items. All will be French-braided with beautiful ribbons, garden twine, lace and burlap.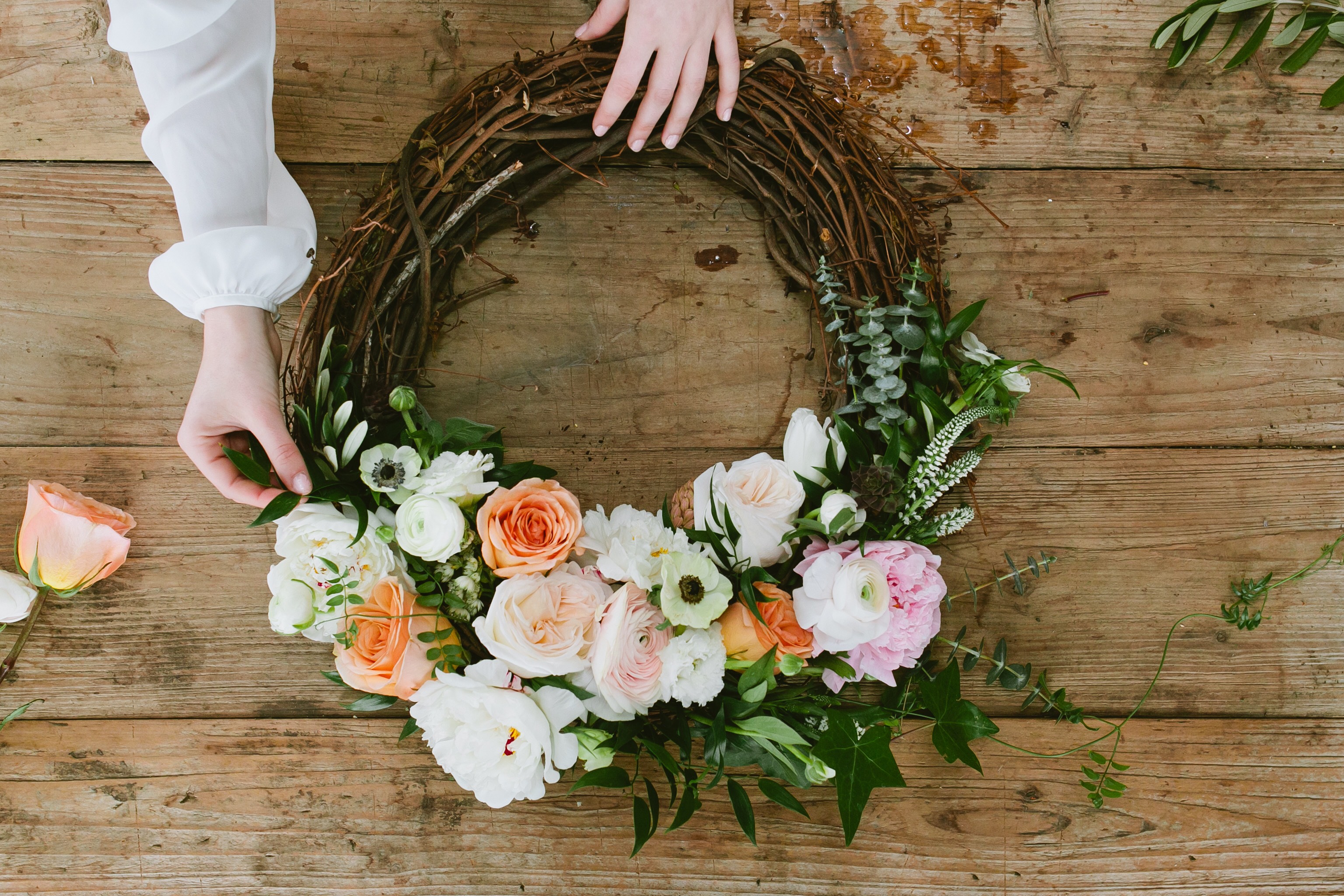 Week two
The Show Stoppers: Children at Weddings
This is an introductory class on designing The Show Stoppers – Children at Weddings: rose balls, floral crowns, tussy mussy, etc. They always steal the show! Children at weddings. We'll be exploring a variety of ideas for kids at weddings: baskets of flowers, rose balls, tussy mussy, nosegays, tiny boutonnieres for the ring-bearer and floral crowns, which you will be making to take home. 
The crowns are made of fresh flowers designed to dry to become a sweet little wreath. Very fun to make and take photos! Bring your camera!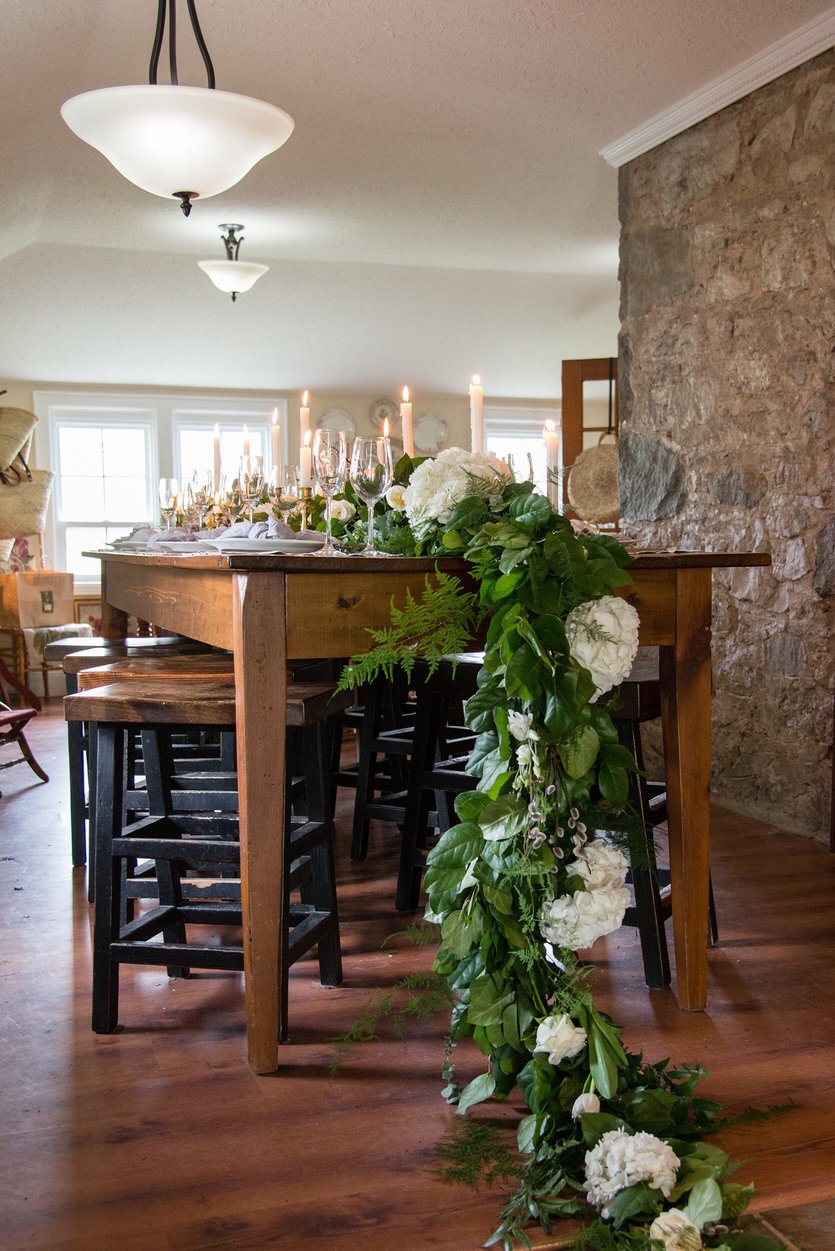 Week three
Gorgeous Garlands
This is an introductory class on designing Gorgeous Garlands: garlands for head-tables, bannisters and fireplace mantels, swags and ropings. A signature item for From The Potting Shed! It was while filming her TV Show, A Day in the Country, that Elaine learned how to make a garland by machine, similar to a sewing machine with a top and bobbin thread. This inspired her to do it by hand and is now the number one gesture for weddings at the ceremony or best at the head table. 
This night you will learn how to make a variety of ropings, swags and garlands. You will make your own 10ft garland to take home. Check out our video and Facebook album dedicated to garlands.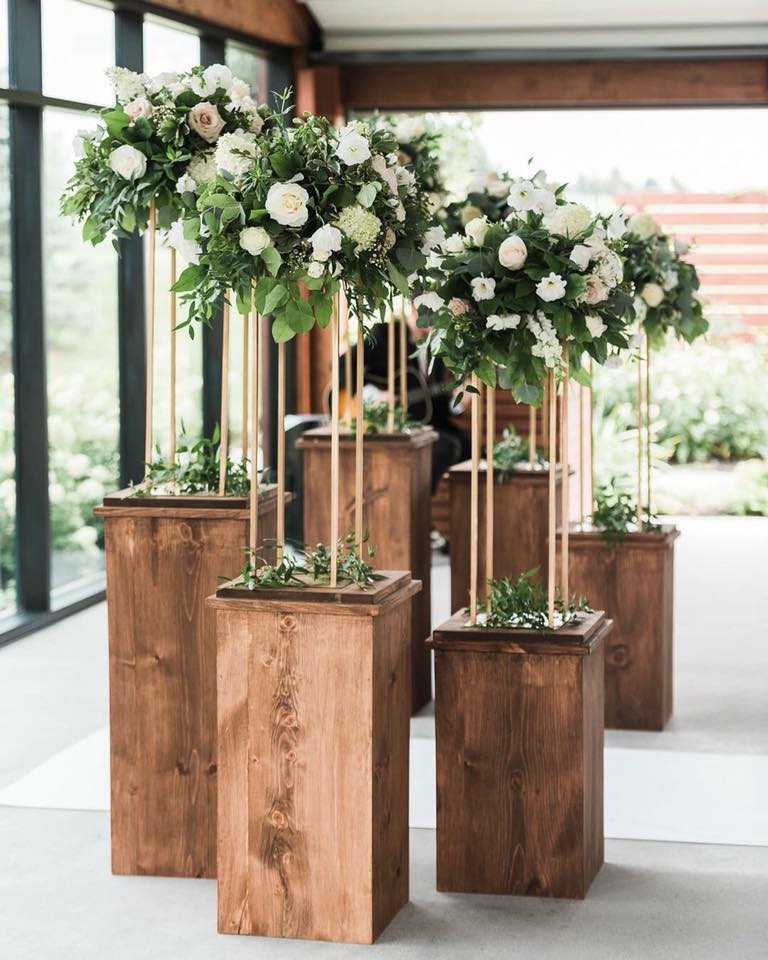 Week four
Wow for the Vows: Ceremony Decor Flowers
This is an introductory class on designing Wow For The Vows – Flowers for the Wedding Ceremony. We'll be showing you lots of ideas for ceremony decor – large garden planters tarted up with seasonal flowers, pew swags (never liked that name), decoratives for pedestals, mini garlands for archways – you get the picture. 
To take home – you will be making a beautiful Grand Floral Decorative (designed in an insert ready to pop into a Garden Urn), as well a Floral Swag suitable for chair decor or on your front door!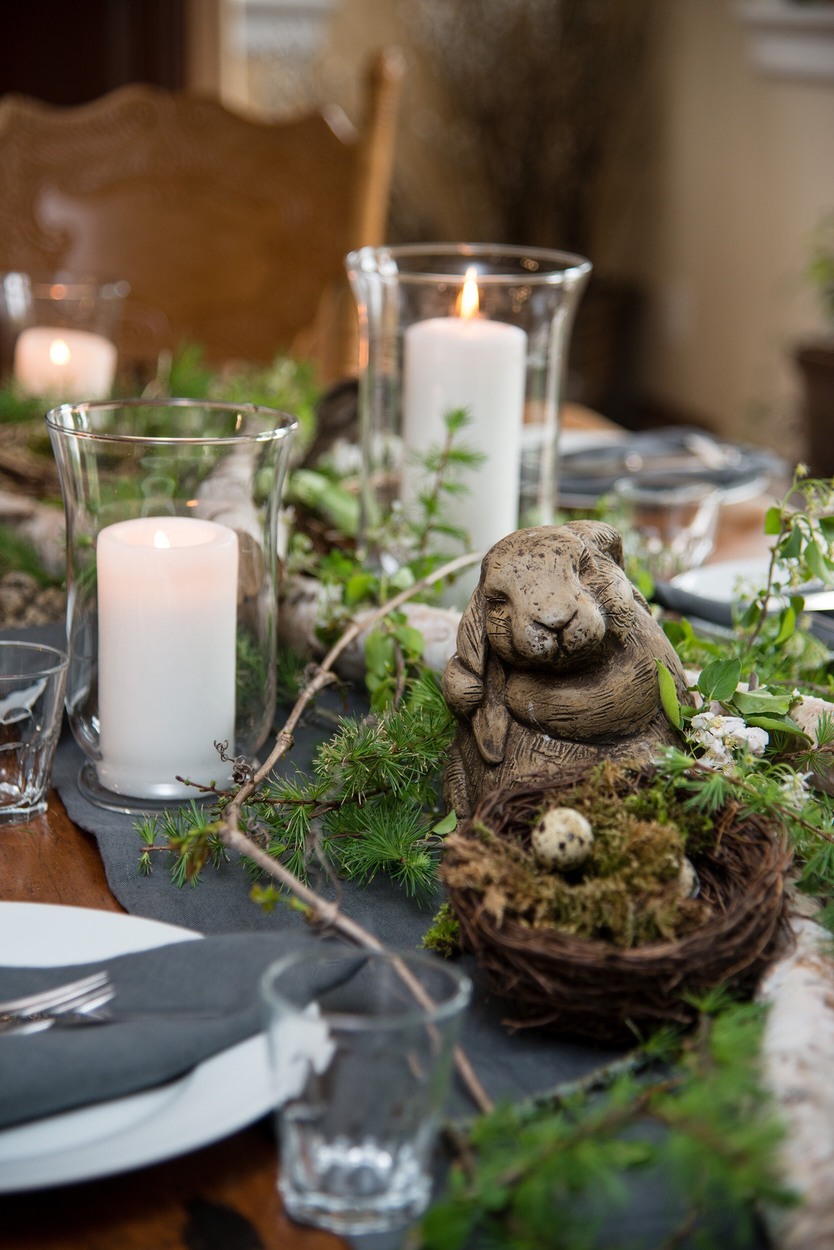 Week five
Celebration Flowers: Floral Decorative's for a Wedding Reception
This is an introductory class on designing Celebration Flowers – Floral Decoratives for a Wedding Reception. Get ready to rumble! We will be taking in a lot this evening. Tall overflowing centrepieces, flirt bowls, pedestal vases, mason jars, stoneware, wooden crates and birch bark… we will be covering a lot of territory! All with the seasons best flowers and foliage – who could resist! 
This night you'll be making a floral decorative in your choice of container to create a "Flirt-bowl" arrangement (one of Elaine's favourites). Get out your camera! This is for sure Pinterest-worthy.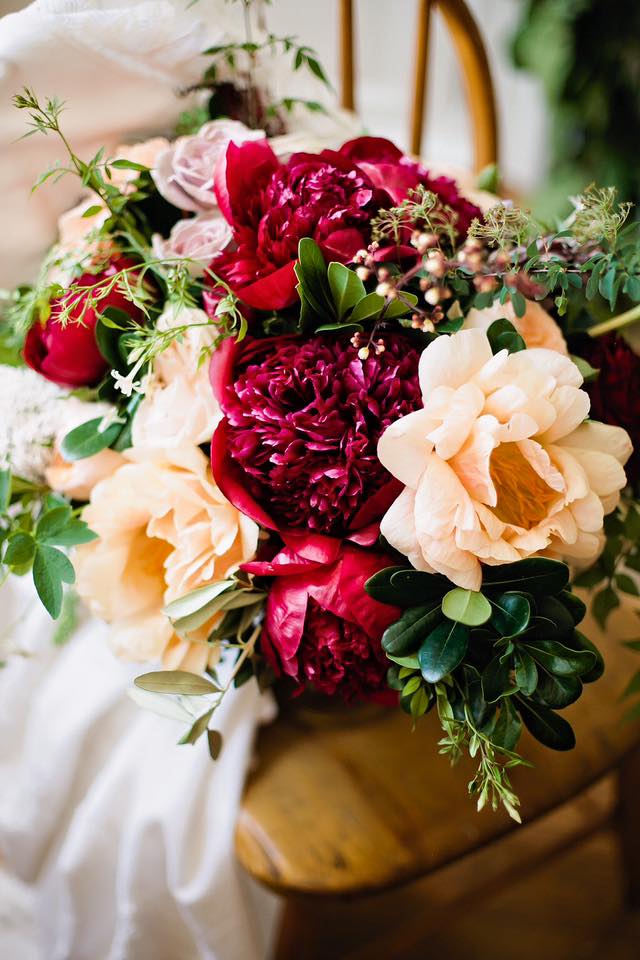 Week six
Breathtaking Bridal Bouquets 
This is an introductory class on designing Breath-Taking Bridal Bouquets! In this class you will lean how to select, prepare and condition flowers. You will start with a Tussy-Mussy (fancy name for a small flower-girl size bouquet). You'll learn how to tuck the flowers together "just so" to create that Pinterest-worthy look! 
Having mastered that, you'll then make 2 more floral bouquets – a traditional Dome-style & Garden-style (our most popular)! For that finishing touch – you'll learn how to French-braid with the seasons trendiest ribbons!